TRADEMARK REGISTRATION
A Trademark registration protects your brand and provides you with the tools to prevent someone using similar signs and riding on the back of your business. Trademark (symbolizing a mark in trade) means a mark capable of being represented graphically and which is capable of distinguishing the goods or services of one person from those of others and may include a shape of goods, their packaging, and a combination of colors. Trademark registration in India is advisable to protect your brand.
Essentially it is anything which identifies a brand to a common consumer. "Mark" includes a device, brand, heading, label, ticket, name, signature, word, letter, numeral, shape of goods, packaging or combination of colors or any combination thereof.
We always advise our clients to recognize all the IP Rights in the form of Trademark and register every Mark, Brand Name, Label, Product Name, Logo, Punchline, and the Domain Names as the Trademark in India for an effective remedy in case of misuse by any other person.
SERVICE INCLUDES
Discussion on Trademark Class
Trademark Search
Drafting of Authorisation Letter
Issue of Digital Signature
TM Application Filing
Regular Update and Tracking
DOCUMENTS REQUIRED
Address proof of the trademark owner
PAN of of the trademark owner
Digital Signature of the trademark owner<
Name of Brand/Logo
Brief Background of LOGO / WORD / DESIGN to be Registered
PROCESS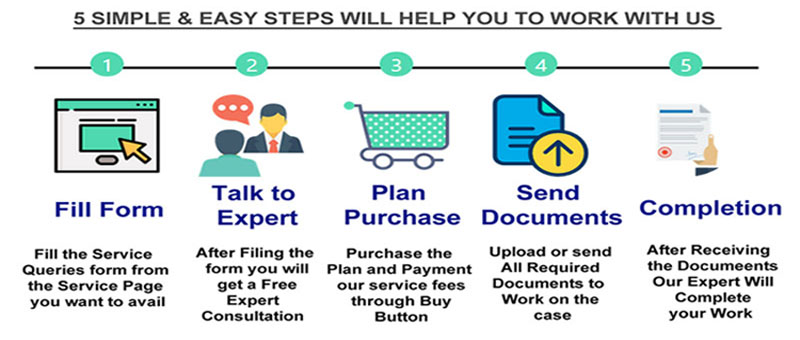 FAQ (Frequently Asked Questions)
The government fees for trademark registration is Rs.9000 per application per class for company. The government fees for trademark registration is Rs.4500 per application per class for individual.
Symbol "TM" can be used after filing of trademark application. "R" should be used only after registration of trademark. The ® symbol may only be used in connection with the goods and services listed on the registration certificate.
The registered trademark is valid for 10 years from the date of filing of application. The trademark can be renewed further.
Yes, one can register a trademark before even starting a business.
For Trademark Registration, the goods and services are classified into 45 different classes. The most recent change in TM Classification is done by World Intellectual Property Organisation (WIPO) on 1st Feb 2018. Classes 1 to 34 pertains to goods and classes 35 to 45 are for services. The protection of the trademark is legally enforceable only within the specification of a specific class of trademark for which it is registered.
See
Trademark All Classes
here.