PROVIDENT FUND REGISTRATION
Provident Fund (PF) is one of the main platform of savings in India for nearly all people working in Government, Private or Public sector organizations. It is implemented by the Employees Provident Fund Organization (EPFO) of India. Registration has to be done within One month from the date of hiring 20th employees. PF is the best way to provide social security to the employees.
The application for PF Registration is made online with the Digital Signature of one director or the Authorised Signatory of the company. We assist you to ascertain the coverage and applicability of the PF and file application for registration on your behalf to the PF Office, draft all documents and do a followup with the department for issuance of the registration number of the establishment.
Contribution towards PF -
Contribution to EPF is to be done by both Employer and Employee.
Employer deducts his employees' share of EPF from his salary.
Employer needs to deposit the amount of his contribution of EPF along with employees deducted share.
The Employer's contribution to EPF would be 10% and that of employee's would be 10% (As per reduced rate).



Any delay in registration of EPF (Employee Provident Fund) may result in a penalty.
We can help you in all your queries regarding PF registration with a single click of mouse while you stay relaxed of getting insured under PF without any complication.
SERVICE INCLUDES
Drafting documents
Issue of Digital Signature
Filing of forms with Authorities
Issue of PF allotment letter
DOCUMENTS REQUIRED
Documents To Be Submitted
Digital Signature of Proprietor/Partner/Director
Address proof of partners, proprietor or directors as applicable
PAN Card of entity
Certificate of incorporation and address proof in case of company
Shop and establishment Certificate/GST Certificate/ License issued by the government for factory
Bank Account Information (bank statement and cancelled cheque)
Employee's Basic and Salary details
PROCESS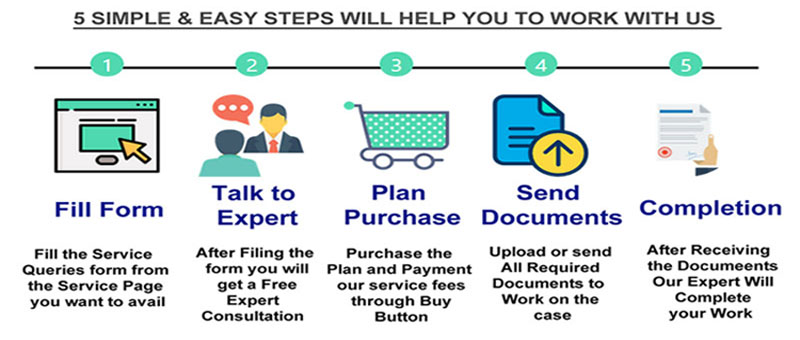 FAQ (Frequently Asked Questions)
It will take 10-15 working days.
Employees drawing basic salary up to Rs 15000/- have to compulsory contributions to the and employees drawing above Rs 15001/- have an option to become a member of the Provident Fund.
Any establishment which employs 20 or more employees, except apprentice and casual laborers, every Employee including contract labor who is in receipt of basic salary up to Rs. 15000 p.m. is covered by the Act. Any establishment which has been covered under the Act once shall continue to be governed by the Act even if the number of persons employed therein at any time falls below 20.
The provident fund is a social security scheme having the government guarantee to its members. The provisions of the PF Act applies to the establishment based on the number of employees. Registration with the Provident Fund Organisation is mandatory for establishments employing 20 or more employees.
However, However, it can also be taken on a voluntary basis with the consent of its employees. A copy of the declaration by the majority of the employee of opting for voluntary registration is attached with the Form.
Each & Every establishment having employer EPF registration needs to file regular monthly returns on 25th of every month and one annual return before the 25th of April every year.